CORDE RUNDY
A caravan for trip with pets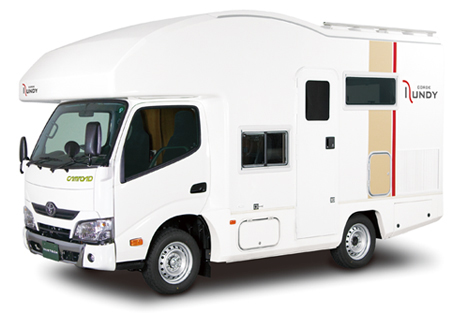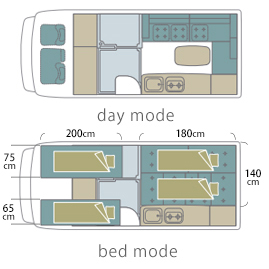 □gallery
Learn More
□equipment
Learn More

equipment
Inside gas stove
〇
FF heater
〇
Changing room
〇
Air conditioner for back cabin(Unavailable from Nov. to end of Mar.)
〇
Large refrigerator
〇
Shower
×
Rear camera ( Activated all times)
〇
Screens and blinds for all windows
〇
ETC
〇
100V Power outlet(For charging phone, PC, Ipad)
〇
Large fan
〇
Garbage storage outside
〇
Sink water(Unavailable from Nov. to end of Mar.)
〇
USB power outlet for phones
〇
microwave
〇
□base vehicle performance
Learn More

We also have a pet-enabled vehicle.

In winter season, If you use a car for skiing or snowbording, 3-4 person is maximum with those equipments.

Name
Vantech CORDE RUNDY
Popular, user-friendly, Japanese manufacturer
Base vehicle
TOYOTA CAMROAD
Special RV chassis
Engine
Turbo charged diesel
With powerful engine it's easy to drive even in the mountains!
Displacement
3000cc
Quiet engine
Drive system
Full time 4WD
Safe on winter roads
Fuel
Diesel
It is not a gasoline engine!
Fuel consumption
Per 1 liter
8~12km
High fuel efficiency and diesel is cheap
Seating capacity
Driving
6
Roomy inside
Sleeping
4
Comfortable for 4 persons
Dimensions
Length
4995㎜
Shorter than an ordinary Japanese van
Width
1980㎜
Able to be parked in normal car parking spaces
Height
2960㎜
Please be aware of the height
Minimum turning radius
4.9m
Same as a normal car
Smoking
Not allowed
Please understand
Pets
OK(Dogs only)
"Pet Cleaning Fee" is 11,000JPY including tax.